25th July 2019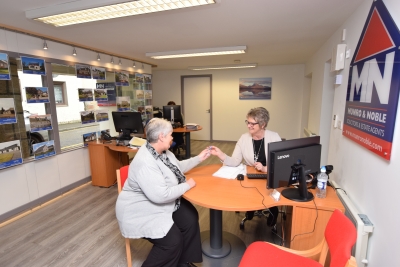 Conveyancing Partner Bruce Miller explains why using a Solicitor Estate Agent can save you time and money when it comes to buying and selling property.
In our last blog post: 'High Street vs Online Estate Agents', we looked at how quality high street Estate Agents like Munro & Noble will often achieve a better selling price for a property than an online agent. We also calculated that this means the seller will walk away with more money in their pocket, after fees, from achieving a higher selling price with Munro & Noble, than they would with a 'low cost' online agent charging a flat fee. Now, we will look at why using a Solicitor Estate Agent like Munro & Noble can provide both buyers and sellers with the complete package when it comes to buying or selling a property.
Conveyancing
Conveyancing is the process of transferring the legal title of a property from one person to another. Most home movers cannot buy or sell a house without instructing a Conveyancing Solicitor to carry out this work on your behalf.
There are huge benefits to marketing your property with a Solicitor Estate Agent when it comes to tying up the legal aspects of the sale. Solicitor Estate Agents like Munro & Noble can offer a full service under one roof, including Estate Agency, Conveyancing and Financial Services. Munro & Noble's dedicated team of professionals can guide you through the entire process from the initial stages right through to completion of sale. Dealing with one firm for each aspect of buying or selling a property can ensure that delays are prevented where possible and the process runs smoothly.
Highland Solicitors Property Centre (HSPC)
For sellers, using a Solicitor Estate Agent can be worthwhile if only to gain access to the Highland Solicitors Property Centre, which arguably markets the largest and most diverse range of property in the Highlands. HSPC is made up of a network of around 34 Solicitor Estate Agents in the Highlands. Only Solicitor Estate Agents can advertise a property with HSPC, meaning sellers who advertise with an online agent could be missing out on a vital local marketing opportunity for their property.
With over 120,000 monthly visits, the HSPC website is regularly frequented by house hunters and is an ideal opportunity for sellers to showcase their property. Around the Highlands you will also find HSPC's 'Hot Property' newspaper advertising the latest properties to hit the market from all the Solicitor Estate Agents in the region. 17,000 copies are printed each month and distributed across the Highlands.
For more information about HSPC: https://www.hspc.co.uk/about-hspc.asp
Convenience
Like most online-only businesses, online Estate Agents do not have premises which are open to the public. This may be cost-saving for the online agent, but can impact the service they are able to provide to their clients. When selling or buying a property with Munro & Noble, you will have direct contact with your Solicitor and Estate Agent either face to face or via telephone to ensure that the process can happen as quickly and efficiently as possible. Our dedicated team have a wealth of experience and local knowledge, so you can rest assured you will never be 'on hold' to a centralised call centre, you will always be in direct contact with local professionals.
Cost
Some online agents will now refer clients to a conveyancing solicitor based out with the Highlands. Clients can end up paying more for their legal services to accommodate the commission that the nominated law firm must pay to the online Estate Agent for the referral. Often, sellers can be contractually obliged to use the Solicitor referred to by the online Estate Agent and in fact may have to pay an additional fee if they wish to use a Solicitor of their choice.
Convenience needn't be costly when it comes to buying or selling a property with a Solicitor Estate Agent. Not only will you receive all the services you require under one roof, there are often great deals to be had when using the services of one firm. Munro & Noble can put together attractive packages for sellers wishing to use the services of both the Estate Agency and Conveyancing Solicitors, meaning you will receive the best standards of service at an affordable price.
Munro & Noble offer a 'one stop shop' for buyers and sellers looking to progress their journey to owning a new home. Our team work with you to achieve the best possible results for you.
For more information about buying or selling a property with Munro & Noble:
Conveyancing
Inverness: 01463 221727
Dingwall: 01349 866777
Email: legal@munronoble.com
https://www.munronoble.com/conveyancing
Estate Agency
Inverness: 01463 225533
Dingwall: 01349 866777
Email: property@munronoble.com
https://www.munronoble.com/property/sell-your-property