15th July 2019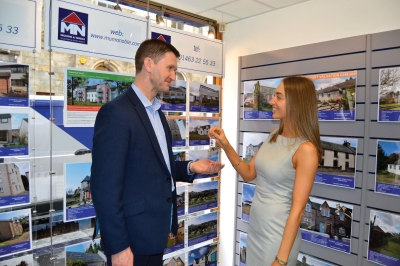 Like most things, the digital age has changed the face of Estate Agency. No longer is the local newspaper the main form of property advertising, instead the use of smartphones, Social Media and online platforms such as Rightmove and Zoopla provide instant access to the market. However, the most notable change in Estate Agency in recent years is the emergence of online-only Estate Agents.
The way that buyers search for property has changed throughout the years and with the introduction of online Estate Agents, it is important that traditional High Street Estate Agents adapt to embrace innovative approaches without neglecting the key benefits that come with a traditional high street Estate Agency. Although online-only agents promise 'no commission', research has evidenced that traditional high street agents still out-perform them when it comes to selling properties for the best price. It is thought that this is due to the top high street agents delivering the best of both worlds – a strong digital marketing strategy, coupled with the benefits of a traditional estate agency, namely negotiation.
Selling with Munro & Noble: Combining Tech with Tradition
Two centrally located High Street Property Shops in Inverness and Dingwall
An expert team of friendly and experienced staff who know the local area inside out
Choice of both online or face to face guidance throughout the process from dedicated professionals
Property marketing across national online platforms Rightmove, Zoopla and On the Market
Additional property marketing through the Highland Solicitors Property centre (HSPC)
Mobile optimised website for buyers to browse properties and arrange viewings on the go
Property marketing across a range of social media platforms targeted to an engaged audience
Experienced team of Sales Negotiators to achieve the best selling price for your property
Eye catching window displays, 'For Sale' signs and professionally produced sales brochures
Munro & Noble are eager to ensure that the firm is accessible to all clients in the Highlands, and by combining digital with a traditional high street presence offering the very best in customer service, can ensure that all clients are catered for.
"We have sold five properties through Munro & Noble and have found the professional and knowledgeable service offered invaluable, they guided us through all stages of each sale. We quickly built a rapport with the staff who were always friendly, approachable and available. We cannot imagine this level of service ever being achieved from an online agent." – Dennis & Sue Day
With online-only agents focussing their campaign around "no commission" or lower fees, it is important that the high street can adapt to change and develop a unique offering that combines the convenience of digital with the quality of a traditional service. Munro & Noble continue to outperform online agents on selling price achieved. This means that after fees, clients walk away with more money in their pocket per sale*. While technology continues to enhance the work of Estate Agents, the key asset at Munro & Noble's disposal is great people and great people drive sales!
Contact the Property Shop:
Inverness: 01463 225533 | Dingwall: 01349 866777
Email: property@munronoble.com
*Average % of sale price achieved compared to asking price by Munro & Noble – 101.04% (June 2019). Compared with national average for online agents – 98.85% (Source). This represents a £3,832.50 difference for a property marketing at £175,000.