30th October 2018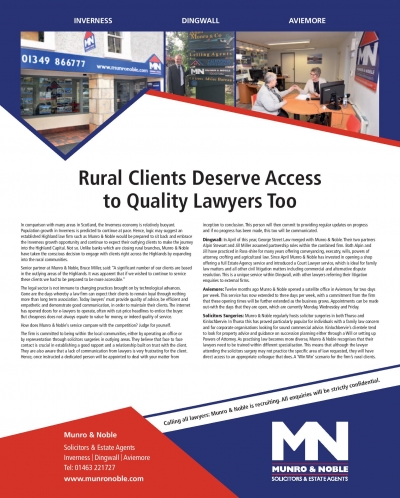 In comparison with many areas in Scotland, the Inverness economy is relatively buoyant. Population growth in Inverness is predicted to continue at pace. Hence, logic may suggest an established Highland law firm such as Munro & Noble would be prepared to sit back and embrace the Inverness growth opportunity and continue to expect their outlying clients to make the journey into the Highland capital. Not so. Unlike banks which are closing rural branches, Munro & Noble have taken the conscious decision to engage with clients right across the Highlands by explanding into the rural communities.
Senior partner at Munro & Noble, Bruce Miller, said: "A significant number of our clients are based in the outlying areas of the Highlands. It was apparent that if we wished to continue to service these clients we had to be prepared to be more accessible."
The legal sector is not immune to changing practices brought on by technological advances. Gone are the days whereby a law firm can expect their clients to remain loyal through nothing more than long term association. Today lawyers must provide quality of advice, be efficient and empathetic and demonstrate good communication, in order to maintain their clients. The internet has opened doors for e-lawyers to operate, often with cut-price headlines to entice the buyer. But cheapness does not always equate to value for money, or indeed quality of service.
How does Munro & Noble's service compare with the competition? Judge for yourself.
The firm is committed to being within the local communities, either by operating an office or by representation through solicitors sugeries in outlying areas. They believe that face to face contact is cruical in establishing a good rapport and a relationship built on trust with the client. They are also aware that a lack of communication from lawyers is very frustrating for the client. Hence, once instructed a dedicated person will be appointed to deal with your matter from inception to conclusion. This person will then commit to providing regular updates on progress and if no progress has been made, this too will be communicated.
Dingwall
In April of this year, George Street Law merged with Munro & Noble. Their two partners Alpin Stewart and Jill Miller assumed partnership roles within the combined firm. Both Alpin and Jill have practiced in Ross-Shire for many years offering conveyancing, executry, wills, powers of attorney, crofting and agricultural law. Since April Munro & Noble has invested in opening a shop offering a full Estate Agency service and introduced a Court Lawyer service, which is ideal for family resolution. This is a unique service within Dingwall, with other lawyers referring their litigation enquiries to external firms.
Aviemore
Twelve months ago Munro & Noble opened a satellite office in Aviemore, for two days per week. This service has now extended to three days per week, with a commitment from the firm that these opening times will be further extended as the business grows. Appointments can be made out-with the days that they are open, which are currently Monday, Wednesday and Friday.
Solicitors Surgeries
Munro & Noble regularly hosts solicitors surgeries in both Thurso and Kinlochbervie. In Thurso this has proved particularly popular for individuals with a family law concern and for corporate organisations looking for sound commercial advice. Kinlochbervie's clientele tend to look for property advice and guidance on succession planning either through a Will or setting up Powers of Attorney. As practising law becomes more diverse, Munro & Noble recognises that their lawyers need to be trained within different specialisation. This means that although the lawyer attending the solicitors surgery may not practise the specific area of law requested, they will have direct access to an appropriate colleague that does. A 'Win Win' scenario for the firm's rural clients.