10th December 2018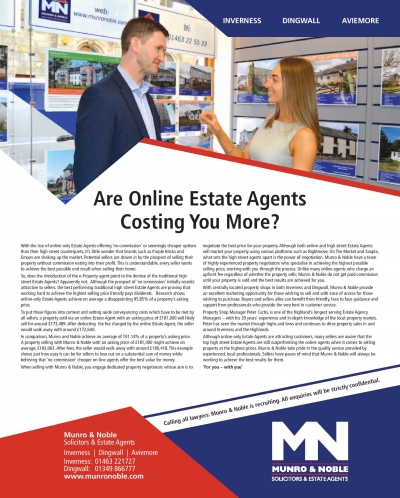 With the rise of online-only Estate Agents offering 'no commission' or seemingly cheaper options than their high street counterparts, it's little wonder that brands such as Purple Bricks and Emoov are shaking up the market. Potential sellers are drawn in by the prospect of selling their property without commission eating into their profit. This is understandable, every seller wants to achieve the best possible end result when selling their home.
So, does the introduction of the e-Property agent point to the demise of the traditional high street Estate Agents? Apparently not. Although the prospect of 'no commission' initially sounds attractive to sellers, the best performing traditional high street Estate Agents are proving that working hard to achieve the highest selling price literally pays dividends. Research shows online-only Estate Agents achieve on average a disappointing 95.85% of a property's asking price.
To put those figures into context and setting aside conveyancing costs which have to be met by all sellers, a property sold via an online Estate Agent with an asking price of £181,000 will likely sell for around £173,489. After deducting the fee charged by the online Estate Agent, the seller would walk away with around £172,640.
In comparison, Munro & Noble achieve an average of 101.14% of a property's asking price. A property selling with Munro & Noble with an asking price of £181,000 might achieve on average, £183,063. After fees, the seller would walk away with around £180,418. This example shows just how easy it can be for sellers to lose out on a substantial sum of money while believing that 'no commission' cheaper online agents offer the best value for money.
When selling with Munro & Noble, you engage dedicated property negotiators whose aim is to negotiate the best price for your property. Although both online and high street Estate Agents will market your property using various platforms such as Rightmove, On The Market and Zoopla, what sets the high street apart is the power of negotiation. Munro & Noble have a team of highly experienced property negotiators who specialise in achieving the highest possible selling price, working with you through the process. Unlike many online agents who charge an upfront fee regardless of whether the property sells; Munro & Noble do not get paid commission until your property is sold and the best results are achieved for you.
With centrally located property shops in both Inverness and Dingwall, Munro & Noble provide an excellent marketing opportunity for those wishing to sell and with ease of access for those wishing to purchase. Buyers and sellers alike can benefit from friendly, face to face guidance and support from professionals who provide the very best in customer service.
Although online-only Estate Agents are attracting customers, many sellers are aware that the top high street Estate Agents are still outperforming the online agents when it comes to selling property at the highest prices. Munro & Noble take pride in the quality service provided by experienced, local professionals. Sellers have peace of mind that Munro & Noble will always be working to achieve the best results for them.
'For you – with you'