25th January 2019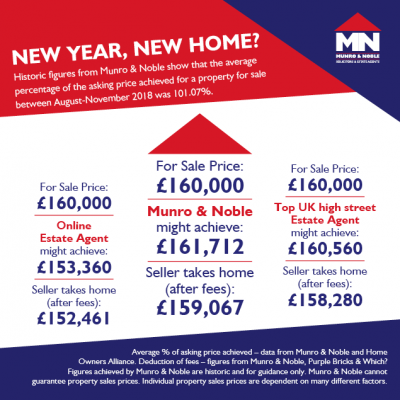 We know that your home is probably the single largest investment you'll ever make, so choosing the right agent that you can trust to get the best results for you is an important step in the process of selling your home.
At Munro & Noble we understand you desire the very best in customer care and that you wish to achieve the best price for your property. Obtaining the highest price requires excellent negotiation skills on behalf of your agent. Not all agents provide this service. 'No commission', or seemingly cheap online agents often have little or no incentive to work towards achieving the highest price for your sale, as they get paid their fee upfront.
Munro & Noble is proud of their sales statics. Historic figures show that the average percentage of the asking price achieved for a property for sale between August-November 2018 was 101.07%.
How do these results compare with the national average?
For sale Price: £160,000
Munro & Noble might achieve: £161,712
Seller takes home (after fees): £159,067
For sale price: £160,000
A top UK high street Estate Agent might achieve: £160,560
Seller takes home (after fees): £158,280
For sale price: £160,000
An online Estate Agent might achieve: £153,360
Seller takes home (after fees): £152,461
Average % of asking price achieved – data from Munro & Noble and Home Owners Alliance
Deduction of fees – figures from Munro & Noble, Purple Bricks & Which?
Figures achieved by Munro & Noble are historic and for guidance only. Munro & Noble cannot guarantee property sales prices. Individual property sales prices are dependent on many different factors.
For more information on how Munro & Noble can help you sell your property in 2019, please don't hesitate to get in touch with the Property Shop.
Call: Inverness: 01462 223355 | Dingwall: 01349 866777
Email: property@munronoble.com