12th February 2019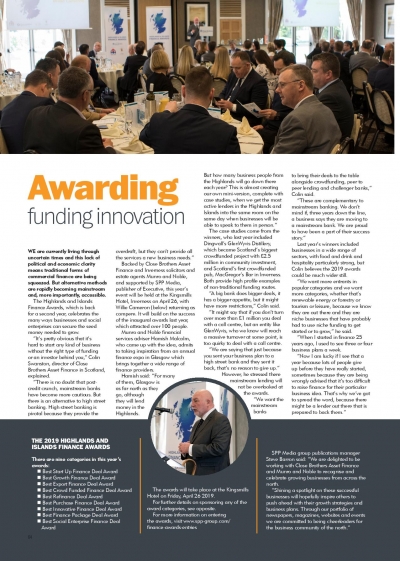 Following the success of the inaugural Finance Awards in 2018, the event is being hosted again at the Kingsmills Hotel on 26 April 2019.
Munro & Noble is delighted to be partnering with Close Brothers to bring together this event, celebrating the success of local businesses in raising finance.
Media Partner SPP wrote: We are currently living through uncertain times and this lack of political and economic clarity means traditional forms of commercial finance are being squeezed. But alternative methods are rapidly becoming mainstream and, more importantly, accessible. The Highlands and Islands Finance Awards, which is back for a second year, celebrates the many ways businesses and social enterprises can secure the seed money needed to grow.
"It's pretty obvious that it's hard to start any kind of business without the right type of funding or an investor behind you," Colin Swanston, director of Close Brothers Asset Finance in Scotland, explained. "There is no doubt that post-credit crunch, mainstream banks have become more cautious. But there is an alternative to high street banking. High street banking is pivotal because they provide the overdraft, but they can't provide all the services a new business needs."
Backed by Close Brothers Asset Finance and Inverness solicitors and estate agents Munro and Noble, and supported by SPP Media, publisher of Executive, this year's event will be held at the Kingsmills Hotel, Inverness on April 26, with Willie Cameron returning as compere. It will build on the success of the inaugural awards last year, which attracted over 100 people.
Pick up the latest copy of Executive Magazine to read the full article about the awards.
There are nine categories in this year's awards:
Best start up finance deal award
Best growth finance deal award
Best export finance deal award
Best crowd funded finance deal award
Best refinance deal award
Best purchase finance deal award
Best innovative finance deal award
Best finance package deal award
Best social enterprise finance deal award
Businesses are invited to enter the awards via the SPP website. Entries close on 29 March 2019. Tickets for the event are also available to purchase via the website.
For more information about Munro & Noble Financial Services, click here.