3rd April 2018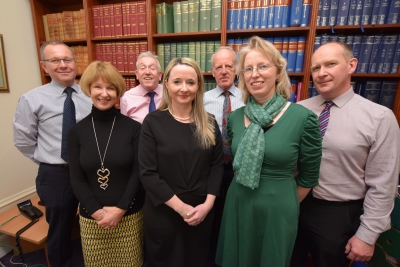 We are delighted to announce that from today Munro & Noble and George Street Law of Dingwall have joined forces under the Munro & Noble brand.
The move will increase the firm's employees to in excess of 50 and see the launch of a new property shop at 4 Church Street, Dingwall, IV15 9SB.
George Street Law's team of five will join the Munro & Noble team and remain based at their local office in Dingwall, with additional legal support being offered from the firm's headquarters in Inverness.
The city firm opened a second office in Aviemore last year following a significant increase in business in the region and currently hosts regular legal clinics in Thurso and Kinlochbervie.
Senior partner at Munro & Noble, Bruce Miller, said: "A significant number of our clients are based in the outlying areas of the Highlands and it was apparent that we had to start expanding our services outwith the city to better service our clients' needs. George Street Law is a successful practice which operates with the same values we have instilled in our team and they were in a position of wishing to provide a wider service to clients. Although this was a strategic business decision for Munro & Noble, it was also an excellent fit for our future growth plans. It strengthens our partnership, increases our skilled team and expands our estate agency with the launch of a Dingwall property shop."
Alpin Stewart and Jill Miller, who launched George Street Law in 2010, will remain partners at the firm after working with each other for 20 years.
Mr Stewart, who has vast experience in crofting law, said the merger is a superb opportunity for both parties: "We have seen a steady growth in the business over the years and a continual increase of clients across the Highlands and Islands and were hoping to further expand, therefore, the opportunity to merge the two businesses came at the right time for both firms. Working as part of the team at Munro & Noble will allow us to offer our clients better access to court work, commercial work and higher level estate agency and letting services, whilst still delivering the same range of legal services to our loyal client base. The merger brings extra depth to the business and introduces our clients to a larger team of legal service providers."