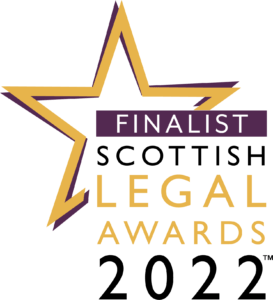 Munro & Noble Solicitors and Estate Agents want to offer our congratulations and thanks to our all of our staff, and in particular to Laura McCarthy, following the double category nomination as Finalists for the 2022 Scottish Legal Awards.
Munro & Noble as a firm have been selected as Finalists in the Community Contribution Award category, which recognised our contributions to the local community. We endeavour to make an impact through working with the local council, the British Armed Forces and various charities including Archies Foundation, Highland Hospice and Movember. As a firm, we always have our local community at the forefront of our minds. Giving back is part of who we are and what we do, and we are so proud of all the members of our firm for all their help and efforts to give back to the community who made us who we are today.
Munro and Noble also want to recognise and congratulate Laura McCarthy, whose individual efforts resulted in her being nominated as a Finalist in the Rising Star category. As a partner of the firm, Laura has made great efforts to provide a unique service to the community of the Highlands by gaining qualifications allowing her to act in English Conveyancing sales and purchases in addition to her role as a family law solicitor. Not content with simply providing a fantastic and unique service, Laura was also instrumental in our firm's charitable contributions, heading up a 'treat for troops' project sending out boxes of home comforts and hygiene products to Scottish soldiers stationed out in Afghanistan. Laura has also been the main driving force in securing our Armed Forces Covenant Bronze Award, demonstrating that she is committed to Munro and Noble's community values.
Thank you to everyone who has supported Munro and Noble.
The winners of this year's Scottish Legal Awards categories will be announced in September 2022.