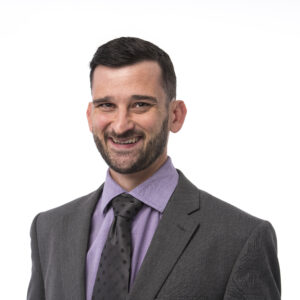 James Noone
James was born and raised in the central belt.  He graduated from Glasgow Caledonian University with an LLB (hons) in 2010 before undertaking his Diploma in Legal Practice at the University of Glasgow the following year. 
In 2011 he undertook his traineeship at Renfrewshire Law Centre, which supported some of the most impoverished areas in Scotland.  Whilst there James defended clients from debt recovery and eviction proceedings.
On completing his traineeship in 2013 James accepted a position within the Highland Council's Litigation and Advice department.  During his 5 years at Highland Council James was involved in a broad spectrum of Summary Cause, Ordinary Cause, Simple Procedure and Summary Applications, including: permanence orders, adoptions, guardianships, Trading Standard's actions, sequestration, ASBO's, rights of access and land ownership disputes, contract law, delictual claims and debt recovery being one of only a handful of solicitors, within Scotland, to successfully arrest a vessel on the dependence before securing payment. 
James joined Munro and Noble at the beginning of 2019 having been attracted to the Firm's ethos and commitment to outstanding client satisfactions. 
Since then, James has continued to increase his knowledge of family law and regularly undertakes work for clients, which is directly funded by Highland Council, in respect of residence orders and direct adoptions.  James has also been involved in complex divorce actions raised in the Court of Session, as well as numerous contentious divorce and separation cases, including secure contact with children within the Sheriff Court. He recently secured a 6-figure sum in a highly time sensitive Section 29 claim where the relevant parties were in Spain which required the use of translators.
James has continued to assist both companies and individuals with debt recovery issues and general civil disputes.
James regularly assists clients in respect of boundary issues and disputes and managed to persuade Highland Council to reconsider their position on an Access Rights issue under the Land Reform (Scotland) Act 2003 for a well know local Estate, who were able to obtain more privacy.
In 2021 James was recognised by the Law Society of Scotland as an accredited Data Protection Specialist.
Outside of work James volunteers for the Coastguard and tries to find time to fit in all of his hobbies which include: golf, squash, hill walking, mountain biking, road cycling, running, SUPing, motor biking and exercising his dog Belle.