22nd August 2019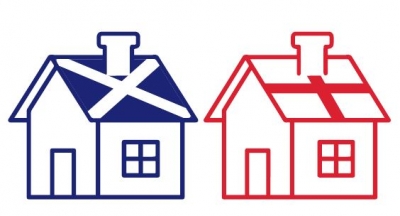 As a firm with two dual qualified Solicitors we are often approached by clients wishing to buy a property in England and sell their home in Scotland and vice versa. Whilst there are fundamental differences in the English and Scottish conveyancing processes it is possible for the two to align in order for transactions to complete effectively and efficiently.
Procedural differences in the two systems
In England a potential buyer ordinarily views a property and then approaches and makes a verbal or written offer to the selling Agent. If the offer is agreed by the vendor the property is usually removed from the open market and the conveyancing process begins. In Scotland by comparison a formal written offer is made by a solicitor usually after a buyer has sight of a Home Report detailing the condition of the property. Whilst an offer letter can state that the offer is "subject to" something happening (such as mortgage finance being obtained or a related property sale) it is generally accepted that the terms of that offer represent an agreement between the buyer and seller.
Despite a property being "under offer" an English selling Agent is obliged to notify the sellers of any other offers that are received even after the conveyancing process has commenced. Provided that contracts have not been exchanged, the sellers are free and able to accept an offer from another party should they so wish. This is referred to as "Gazumping" and is regrettably common within England in Wales.
A vendor sometimes make the unusual decision to accept offers from two buyers and states that the first party to be in a position to exchange contracts will be sold the property. This "first past the post" approach, whilst not adopted often, has been heavily scrutinised by members of the legal profession.
Bear in mind that in both sets of circumstances outlined above, the conveyancing process will have already commenced. In the latter scenario sometimes the transaction is close to concluding, and as such a buyer will have incurred legal expenses and outlays. In England and Wales the buyer is responsible for commissioning his/her own survey and for an outlay for searches. These are all sums that the buyer is not able to recover from the vendor in the event of a transaction falling through prior to contracts being exchanged. This can often amount to losses for a potential buyer in the region of hundreds of pounds.
The doctrine of Caveat Emptor
There is an ability in Scots Law for a transaction to become legally binding quickly as opposed to the requirement in English Law for legal title checks to be undertaken, searches requested and a mortgage offer to be received prior to contracts being exchanged.
Historically this has meant that Scottish and English transactions have presented as difficult to align, however recently the Scottish system has evolved so as to allow for conveyancers to receive a formal offer of loan or to satisfy conditions of an offer made, prior to the conclusion of missives.
The English principle of 'Caveat Emptor' is a Latin phrase meaning "let the buyer beware." This means that the onus of checking the legal title to a property before committing to purchase it rests with the buyer. For that reason English conveyancers have to ensure that they are satisfied that the legal title to the property is good, marketable and free from defect whilst also establishing that their clients have sufficient funds with which to purchase the property.
Once a draft contract package has been received from the seller's solicitor it is usual for searches to be commissioned by the buyer's solicitor which often include, but are not limited to, the following : a Local Authority search , a Water and Drainage search and an Environment search.
An extremely high proportion of negligence claims are brought against solicitors within the conveyancing sector, and for that reason from a risk and liability management perspective it is vital that all enquiries about the legal and marketable title to an English property are undertaken and satisfactorily addressed, prior to an exchange of contracts taking place.
Compatible?
Fundamentally we as conveyancers acting in both sets of transactions simultaneously, must ensure that missives are only concluded in Scotland when parties are ready to exchange contracts in respect of the sale/purchase in England.
Munro and Noble have acted in numerous transactions involving the sale and purchase of property in England and Scotland simultaneously.
Whilst both the English and Scottish conveyancing processes are different, each have their own advantages and disadvantages. It is however possible for the two to work together, and for clients to be represented by a firm who are able to attend to both their Scottish and English transactions. Munro and Noble are proof that this can work in practice!
For more information on Cross-border Conveyancing, click here, or contact Laura McCarthy:
01463 221727
legal@munronoble.com